Shipping Policies
OilPaintings.com offers over 60,000 magnificent oil paintings for sale from our comprehensive website. When you place an order online or by telephone, all in-stock oil paintings are shipped from our facility within 48-72 hours. On the day your order is shipped, we will promptly contact you by e-mail with a tracking number and method of shipment. In the event we are temporarily out of stock on any of the oil paintings in your order, please allow approximately eight to sixteen weeks (depending on the complexity of the artwork) for your oil paintings to be hand-painted by our artists and delivered directly to your home or office. If you are in a rush to receive your order, we would be happy to elevate your order to "Priority Status" at a nominal fee. For more information regarding "Priority Status" orders, please contact our Customer Service Department.
ORDERS SHIPPED TO DESTINATIONS IN THE USA
We offer FREE standard shipping on orders for framed or unframed oil paintings to any destination in the Continental USA. Please Note: An Oversize Shipping Surcharge is assessed on orders that contain extra large size oil paintings that are 40" x 60" or larger, which are either framed, gallery wrapped, or canvas stretched. These oversize orders are too large to be shipped by FedEx or UPS and must be shipped on a pallet by a trucking company.
Please note that orders to states outside the Continental USA (Alaska and Hawaii) are subject to the same shipping policy that applies to international destinations.
ORDERS SHIPPED TO INTERNATIONAL DESTINATIONS
All orders for unframed oil paintings rolled in a tube that are shipped to international destinations will incur a nominal flat rate shipping charge at checkout. For any orders containing framed oil paintings, OilPaintings.com will pay 50% of the shipping and handling charges. To determine your 50% co-pay, you may contact us in advance of placing your order for a shipping quotation, or if you prefer, a staff member from our shipping department will e-mail you the exact shipping and handling cost after you have placed your order. Once your order is shipped, you will receive a tracking number by e-mail, which allows you to easily track your shipment and be aware of the actual day your order will arrive to your door.
Please note that international orders may be subject to customs charges, including import duties and taxes. These charges are the responsibility of the customer and are not included in our prices or shipping charges. When ordering from OilPaintings.com you are considered the importer of record and must comply with all the laws and regulations of the country where the goods are being received. Please note at this time we are not accepting orders from any country located in the European Union.
EXPEDITED ORDERS
Our shipping department offers our customers expedited shipping options at an additional charge, including overnight or 2 day delivery service. Please contact us by telephone or e-mail after you have placed your order and we can change the method of shipping to include your choice of expedited shipping. Please note that in the event we are temporarily out of stock on your oil paintings and you are in urgent need to receive your order as quickly as possible, we can elevate your order to "Priority Status" at a nominal fee. Please contact our Customer Service Department for more details.
ORDERS FOR FRAMED OIL PAINTINGS
When your order includes framed oil paintings, our professional framers carefully stretch each oil painting canvas onto wood stretcher bars and mount the oil painting into the frame of your choice. In addition, our framers install heavy-duty hanging hardware on the frame and supply you with gallery-quality hooks to nail into your walls. When you receive your shipment, simply take the framed oil paintings out of the box and hang them on your wall.
It is important to note that our extreme attention to detail in packing and shipping framed oil paintings is unparalleled in the art industry. Our customers regularly send us testimonials that include compliments on how professional their shipments were packed and boxed by our shipping staff. Please be assured that our expert shipping department uses only the latest packaging technology to make certain your shipment arrives to your door safe and most importantly, damage-free.
TRANSIT TIME FOR SHIPMENTS WITHIN THE USA
The maps of the USA shown below, illustrate the average transit time in "business days" for shipments made to destinations in the USA by FedEx Ground and UPS Ground. Please note that a business day does not include Saturday, Sunday, or holidays.
UPS GROUND TRANSIT TIME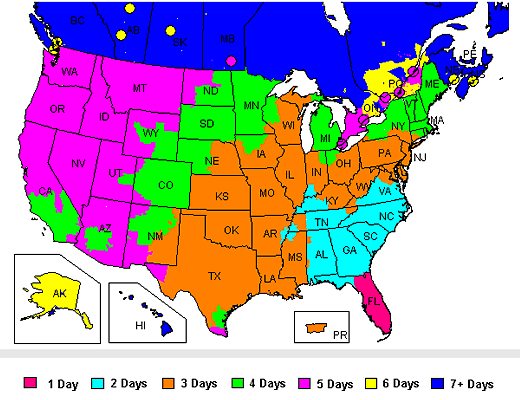 FEDEX GROUND TRANSIT TIME